You can make a difference in the world
as we support local and global missions.
Tim and JoAnn Bauer have served as missionaries with Youth With A Mission for 35 years serving in nearly 50 nations. Their work has often involved pioneering new works, including evangelism & training centers in Kenya, Cyprus & Reunion Island along with the ministries of Global Outreach (GO) Teams Africa and 'Mercy Teams', Mercy Ships.
Currently Tim co-leads YWAM Kona's "China Ministries". Tim and JoAnn live much of the year in Asia helping to awaken the huge Chinese church to their call to go to the nations. This he does through leading Discipleship Mission schools and workshops across China, Taiwan and Asia. Tim also serves on the leadership team of 'Gateway Camp Hong Kong': an annual youth camp mobilizing hundreds of Chinese youth to missions.
There are three generations of the Mortimer family working together to bring the gospel of Jesus Christ to unreached peoples of the Amazon River Basin of Peru. Working from their home base in Iquitos, Peru, the family; John (Fred) and Helena, their son John and his wife Cindy, and their grandson John (Vince) and his wife Megan are true pioneers of the gospel. Using a small fleet of boats they bring the gospel, medical teams, suppplies and equipment to river-based villages deep in the Amazon jungle.
http://513free.com/
513FREE is a Christian band from Eau Claire, WI that started in 2007. We've released 3 full-length albums along with a number of smaller projects and singles. Within our music, we share life, encouragement, and the Gospel to our listeners. We've played nearly 800 shows (and counting) nationwide. In 2011, we played in our first prison, Prairie Du Chien Correctional. Since then, we've spent a lot of time playing our music inside of various prisons throughout Wisconsin and beyond. We also lead worship for churches and ministries throughout the country. We're approaching 12 years of ministry, and we continue to live out our mission: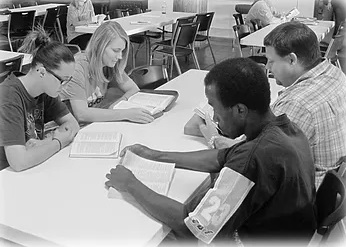 Mission BIble Training Center
www.pregnancyhelpricelake.org